EndGame hosts events in Paizo's Pathfinder and Starfinder Society every Monday night and WotC's Adventurer's League on Wednesdays/Saturdays (contact Cedric for more info regarding AL).  Adventurer's League at Endgame has their own Warhorn site for signups https://warhorn.net/events/endgame-al/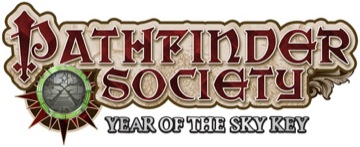 Welcome to the Pathfinder Society!
Pathfinder Society Organized Play is a worldwide fantasy roleplaying campaign that puts YOU in the role of an agent of the Pathfinder Society, a legendary league of explorers, archaeologists, and adventurers dedicated to discovering and chronicling the greatest mysteries and wonders of an ancient world beset by magic and evil.
New players are always welcome. PFS memberships are free, and they can be obtained from one of the Event Coordinators before any Monday and Wednesday night game.
Pathfinder is a d20 system from Paizo based on D&D.  Pathfinder and Pathfinder Society can be found at: Pathfinder Society (Main PFS page at Paizo).  Endgame's PFS Coordinator is Roger and he can be contacted by clicking on "Email the Event Organizer".
You can find info and discussions on the Oakland/SF PFS Facebook disscussion group and more PFS events in the Bay Area go to BAPS Bay Area Pathfinder Society.
The Bay Area Pathfinder Yahoo Group is used for communications about Pathfinder Society games at Endgame, and elsewhere in the San Francisco Bay Area. We STRONGLY encourage players to join and participate in the group to stay current with announcements, updates, and discussions affecting play. 
SIGNUP PROTOCOL
Warhorn sign-ups are locked out at 4PM Monday nights and unlocked after the games that night. If you are late or cannot attend after signups are locked, call Endgame. 510-465-3637
All games start promptly at 7pm, every Monday night for PFS, unless otherwise noted

To honor local gaming conventions, we do not play on Mondays following those conventions (i.e. Dundracon, Kublacon, Pacificon)

.

All games end at 11pm. 

The games run roughly 4 hours long and are FREE! 

There is a table minimum of 4 players and a maximum of 6 players.

Tables will be mustered by character roles and levels.

Seating and judges are limited, so signing up here BEFORE the day of the game is encouraged.
IF YOU WILL BE LATE OR NOT SHOWING UP PLEASE CALL ENDGAME AT 510-465-3637. DO NOT USE EMAIL - DO NOT CALL THE ORGANIZER - these latter methods may not get the message to anyone in a timely manner.
If you know before Monday, please just delist yourself from Warhorn.
ANYONE ARRIVING LATE by more than 5 minutes (7:05 on the Endgame clock) will be considered a no-show and will have their spot given to anyone waiting to play be they walk-in or waitlisted.

NO-SHOW POLICY:
If a player or a DM commits a no-show (that is, if the player/DM does not delist him/herself or called, as noted above, he/she is considered a 'no-show'), that player/DM will be given an official warning via email. If that person commits a no-show again in the next month, he/she will be placed on probation for three months.
Anyone on probation will be automatically waitlisted on any game they signup for on this warhorn board.
We apologize for any inconvenience that these rules will cause you, but it is to respect the volunteer DMs and other players who attend.