Over the years, 1d4Con has been building a library of games (board games, card games, and dice games) that have been acquired through generous donations by game designers and game publishers as well as staff and friends of 1d4Con.
Games we offer (but not limited to):
• 7 Wonders
• Bang! The Card Game
• Cthulhu Dice
• Fluxx
• Forbidden Desert/Island
• Love Letter
• Pandemic
• The Resistance
• Settlers of Catan
• Ticket to Ride
• Zombie Dice
• and lots more (See the link below)
You may rent these games at NO ADDITIONAL COST to you, but we may ask to hold on to your badge while you have the game.
Check out the Library's webpage for full details of what games are available to rent during the convention. (1d4Con's Board Game Library)
Often times Staff and other attendees will drop off games for others to try as well throughout the weekend.


Open Play tables will be offered (in every time slot) in both the Board Game/Minis Room and the Main RPG Room to play these games at. You may even play games that you bring at these tables. Check in with the Staff at the Registration Table for details on how to promote games at Open Tables.


You do not need to sign up on this event to participate.



Rated: Everyone (No age requirement)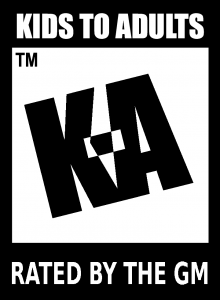 GMs
0 signed up, 1 needed
Players
0 signed up, room for 50
No signups yet