Steve Jackson Games' Men in Black are holding the 3rd Annual 1d4Con Frag Tournament. Winner will walk away with the coveted "Pwnage In The Panhandle" golden grenade trophy. No experience necessary. Only bloodlust. Prizes given for the first chainsaw kill and most damage done.
Game starts. Enemy in sight . . . Frag him! Grab his stuff! Run! Get a bigger gun! Grab some armor! There he is again! Frag him! Run . . . you're hit! You're down. Re-spawn! Grab a weapon! Start again!
Frag is a computer game without a computer -- a "first-person shooter" on a tabletop. Move your fighter and frag your foes. Draw cards for weapons, armor, and gadgets. Move through the blood spatters to restore your own health! If you die, you respawn and come back shooting!
We'll be using the FTW expansion. This expansion brings you new things to blow up, new weapons to blow them up with, and new places to do it.
Arm yourself with the Assault Shotgun and the Shock Glove. Fight across two new maps, with lava and water terrain . . . either one can link to the gameboard from Frag Gold Edition for nearly ten square feet of arena! Blow up barrels and set off a chain reaction. Doors that open the Frag way . . . you have to shoot at the switch! And new scenarios, including the classic Last Man Standing.
More weapons, more hazards, more targets. More . . . FTW!
GM(s): Marcus DeBoard
Playtime: 4 Hours
Theme(s): Action/Adventure, Military/Espionage, Science-Fiction
No experience necessary. This game is beginner friendly.



Age Rating: Adults (18+ yrs old)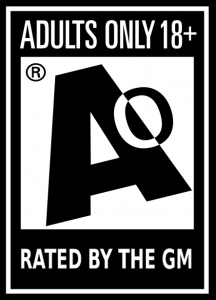 GMs
1 signed up, 0 needed
Players
2 signed up, room for 4