1994 - In this psychological thriller, the people in this tale are clearly connected, and in most cases, employed by the military base at Groom Lake, aka Area 51. You'd grown accustomed to the usual conspiracy theory hype and ignored the constant annoying ridiculous propaganda. You knew it was all a bunch of nonsense. -- until one day....
Angela Souders is a member of Rogue Cthulhu, a non-profit organization sanctioned by Chaosium, Inc. All of the Call of Cthulhu games she runs at 1D4Con have Chaosium prize support. Bring nothing but your imagination. All dice, characters, paper, pencils, etc. are provided AND you get to win great prizes! Sign up now!
GM(s): Angela Souders
Playtime: 4 Hours
Theme(s): Horror, Psychological, Science-Fiction, Supernatural/Paranormal/Mythos
No experience necessary. This game is beginner friendly. All characters will be provided.



Rated: Everyone (No age requirement)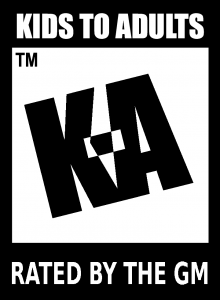 GMs
1 signed up, 0 needed
Players
4 signed up, room for 4