"It was back in 2000 when you graduated and last saw each other. You and the others share a terrifying secret. It was the night of the prom - and a dare that went too far. You've had 14 years to try and forget. Then, you get an invitation to a High School Reunion tainted with the threat of blackmail. This party is just getting started." -- Attend the clandestine reunion in this paranormal romp into the dark.
Angela Souders is a member of Rogue Cthulhu, a non-profit organization sanctioned by Chaosium, Inc. All of the Call of Cthulhu games she runs at 1D4Con have Chaosium prize support. Bring nothing but your imagination. All dice, characters, paper, pencils, etc. are provided AND you get to win great prizes! Sign up now!
GM(s): Angela Souders
Playtime: 4 Hours
Theme(s): Horror, Psychological, Supernatural/Paranormal/Mythos
No experience necessary. This game is beginner friendly. Characters will be provided.



Rated: Everyone (No age requirement)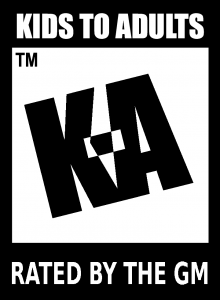 GMs
1 signed up, 0 needed
Players
7 signed up, room for 1